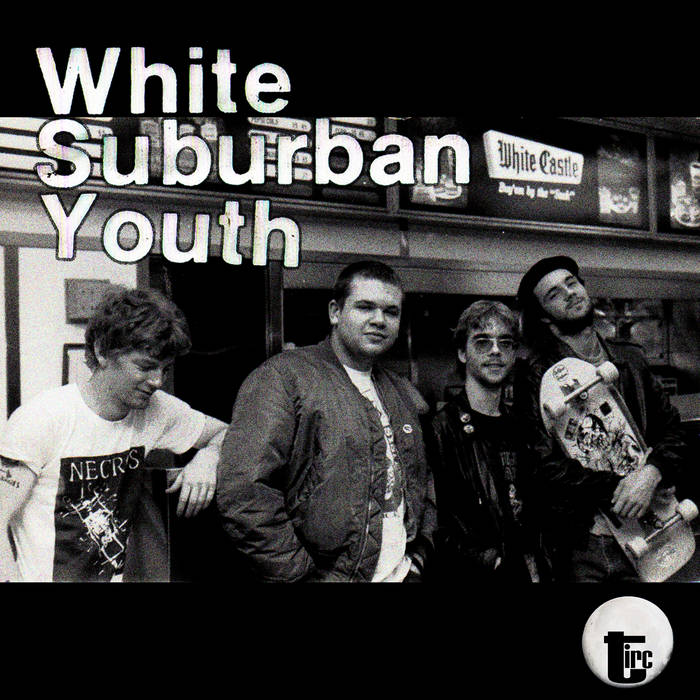 White Suburban Youth—it was an adjective. A lot of hardcore bands wrote about all kinds of things we had no real experience with, and guessed a lot of them didn't either, so we didn't see the point in it, well, at least I didn't and I wrote the lyrics. We put "youth" in the name, as a bit of a joke, too, since there was no shortage of bands with that in their name.
The band started in the Ritenour High School radio station after hours. It was just Rob Wagoner, myself, and another friend, Keith. This would have been very late 1982. We banged around, recording to a two track until the school year ended, then moved to the basement of Keith's parents' house, since they were in California for the summer. Prior to that we had also added Tom Sutter on bass. It was during this summer of 1983 that we really started putting a set together and writing more songs. There were a lot of comps out at the time and Rob commented we were better than most of those bands already. Considering these were mostly Mystic comps, that wasn't really a great feat. It was also during this time that Rob declared we would play Mississippi Nights. I can't remember if he said within the year or not but we did accomplish that in August of 1984 opening for MIA.
The next phase was the fall of 1983 when we had to move from Keith's basement to Rob's house, where we set up in his room to practice and record to a cassette with two microphones. I'm guessing those tapes are someplace if they didn't get recorded over later. We had a lineup change during the early months of 1984, losing Keith and replacing him with Fritz Noble, who we had met at Mr. Records. We were amazed by his playing because he had hi-hats, having him with us increased the momentum. After playing with Fritz for a month or so, we recorded the first demo, mostly just pulled songs from the practice tapes and dubbed them to one tape, made copies and sold them at New Values. At this point we had still not played a show.
Our first show was the infamous Offenders gig that was raided by the vice squad at the Bernard Pub. Up until then we knew a couple of people from hanging out at New Values and going to a few shows but we didn't hang out in the scene. Rob and I spent our Saturday nights hanging out at the community college station, KCFV, for the Radio One/Faster and Louder show. It was through the DJ for the show, Rob Meirhoffer, that we got on the Offenders gig. After that show, we were pretty much immersed into the scene over night. We played a lot of house parties and then got our second show opening for the Rude Pets and The Unconscious Five at the Tivoli. Before that I had been reluctant to get involved with people outside our own band. Fritz and Rob had to actually come to my house one night to talk me into playing our first party. But from that Tivoli show on we played more parties and I was more than happy to do it. The other highlight of that early summer was a New Values basement show with Drunks With Guns and Proud Young Men.
During the summer we pretty much lost our bass player, Tom, due to his schedule, so we played a lot of these parties without a bass player, then in August added Gary Yoxen. I think the first show was with MIA at Mississippi Nights.
Going into the fall of '84, we played some pretty cool shows, 45 Grave/Vandals, Stretch Marks in KC, TSOL, and more house parties. We did a huge New Year's Eve party at Bob Thurmond's house in Overland. He joined the band when Gary moved to Atlanta a few months later. We played more shows than I can remember right now. The next really big one was with Battalion of Saints at Mississippi Nights in June of '85. We hit the road a few more times to Columbia, MO, Topeka, KS, and Springfield, IL.
In January '86 we played with Naked Raygun at SIU-Edwardsville, and that made us enough money to record in a real studio. Well, in a guy's basement in St. Charles, anyway. This would be the second demo that we didn't really sell for very long since we broke up not long after we made it available. We did a lot of shows at Turner's Hall in between but ended up doing our last show with Naked Raygun at Turner's in April '86. Fritz was more interested in doing Culture Shock and Rob and I had been talking to Mike Doskocil about doing something, which led to the forming of Ultraman.
–Tim Jamison, Summer 2014
White Suburban Youth members:
December 1982 through January 1984:
Tim Jamison vocals, Rob Wagoner guitar, Tom Sutter bass, Keith Ubelien drums.
January 1984:
Fritz Nobel drums.
August 1984:
Gary Yoxen bass.
April 1985:
Bob Thurmond bass.
"So This Is Apathy" recorded February 1984 with Tim, Rob, Tom, and Fritz.
"February 1986 demo" (I don't know that it ever had a name) with Tim, Rob, Bob, and Fritz.
Catalog number: TIRC-013